Thank you for Downloading
The Studio Artist 5.0 Trial for OSX
PLEASE NOTE: 

There will be two versions of the Studio Artist Program in your Studio Artist Folder in Your Applications Folder.
64bit Program File for Photos and Still Art*
32Bit Program File for Video*
Please note: Apple recently has added a message to all 32bit programs.  You can bypass this message and continue to use Studio Artist without problems.  If you do have any problems or questions please contact us through tech support.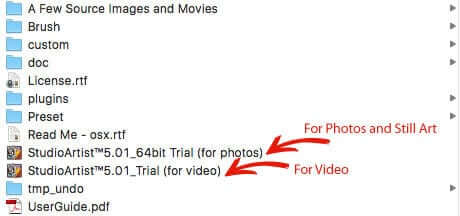 *With the Release of 5.5 there will only be a 64bit Version that will Process
Both Still Art and Video
Please check out these Getting Started Videos