How to Combine Paint Action Sequence Presets (PASeq's) using the History Window
It's easy to combine PASeq steps using the History Sequence Window from the Windows menu (which records steps like a PASeq).  So you can record or drag and drop steps into the History Sequence and then drag and drop them into another PASeq preset.
The Windows Menu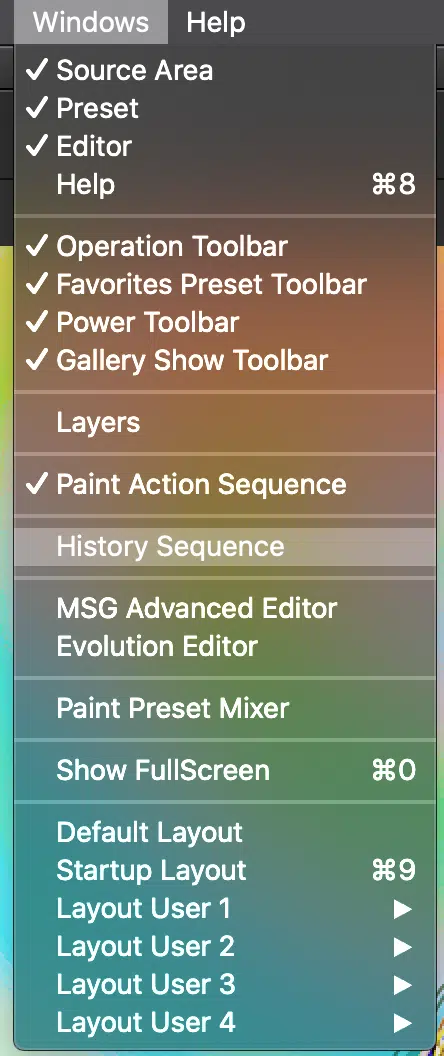 Choose the PASeq that you want to take steps from to add to another PASeq
Drag and Drop those steps into the History Sequence from a PASeq Preset (or record new steps from presets in any Mode in Studio Artist).
Note: If you want to record a new step in the History window make sure record is checked in the History Window.  No need to check record if you are dragging and dropping from a PASeq preset.
Choose the PASeq you want to add steps to or start a brand new PASeq by erasing what is in the current PASeq preset.
Drag and Drop the steps from the History Sequence to the PASeq you have chosen to add on to
Test it and then save and name the new PASeq to your Favorites folder.
IMPORTANT TIP:  When you click on a red square in the PASeq to play that one step, the Preset Window will automatically change to the Mode that the step was created with.  For instance, if you click on an Autopaint Step in the PASeq, the Preset Window will automatically change to the Paint Synthesizer presets.  Just be aware, because you will need to toggle back the PASeq Presets to continue this process.
Below is combining the first Factory PASeq (A Watercolor Blot Palettized) with 3 Steps from Abstract Overly (a few presets down the same list in the General Category)
This example replaces the Autopaint Steps from A Watercolor Blot Palettized with the Autopaint Steps from Abstract Overlay.  It also replaces the canvas texture "Paper Classic" with "Sand Paper" from the Abstract Overlay preset.  For clarity the original steps that are being replaced are muted (turned off) you can see by the check next to them.
You may only want to be adding and not replacing as well.
The three steps from the Abstract Overlay preset are dragged into the History Sequence.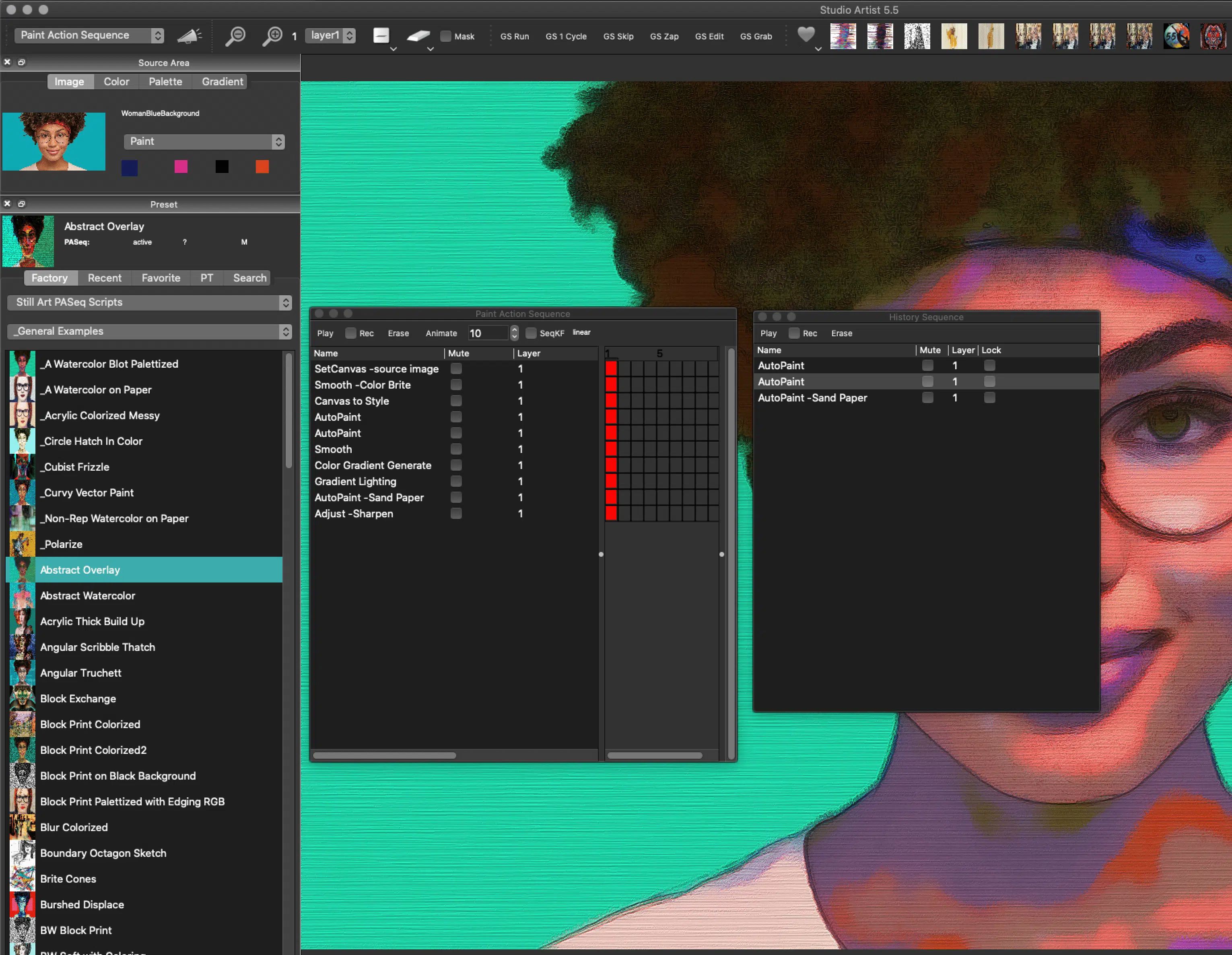 The Three Steps from the History Sequence are dragged to the PASeq Preset A Watercolor Blot Palettized.  The three steps these are replacing are muted (Turned Off) by the checking the Mute Button. 
You can see the two new AutoPaint Steps below the muted AutoPaint step and the Sand Paper texture under the old Paper Classic texture.