You have the ability to customize the integrated help browser in Studio Artist 4. You can add your own custom help pages with hints, or personalized instructions. And you can also build custom help pages that can document and call up specific presets.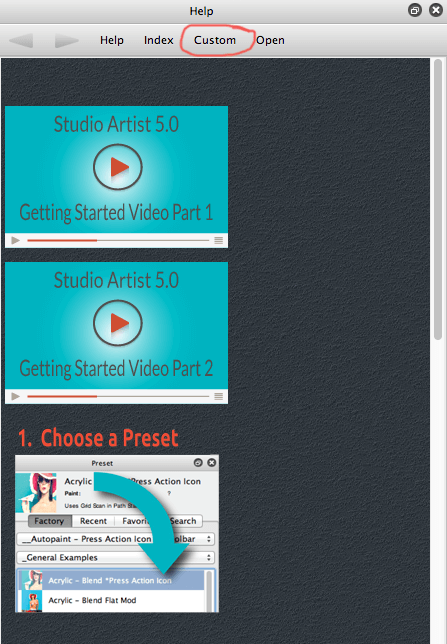 The Custom part of the help browser is accessed by pressing the Custom button at the top of the Help Browser (as shown above). When you do so you enter your custom help start page.
All of the help pages displayed in the Help browser are html pages. You can currently use a limited set of html commands to build custom help pages, and you can include PNG images in your custom help pages.
There is a custom folder inside of the main studio artist folder that is specifically designed for you to build and place your custom help pages in. The doc folder contains the help browser documentation provided by Synthetik Software, so it's contents will change over time. But you are free to modify the contents of the custom folder as you see fit for your personal documentation needs.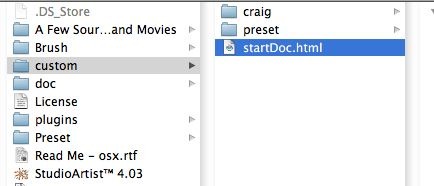 The startDoc.html file is the html page that is loaded when you press the Custom button at the top of the help browser. So you can make your own custom help pages using any html editor, and then edit the startDoc.html page to link to your custom help pages.
One cool use of custom help pages is to build your own documented references to specific preset files you use frequently. You can include notes on how to use the paint preset as well as pictures of what it looks like.
Studio Artist user Craig Deeley was kind enough to put together a complete set of custom help pages that reference his CD_hand_drawn_media paint preset collection.
The gallery above shows the main index of Craig's custom index to his presets as well as an example of the entry for the Dry Media Charcoal presets. Craig built his custom help pages so that if you click on the command link below the pictorial example of how the preset draws, then that specific paint preset is loaded as the current paint preset.
So, you can build custom help pages that can describe and load any preset you wish, by using a html editor to construct your custom help page and then adding the correctly build user command link to reference and load the presets file when the command link is pressed.
The main Custom index page we ship with Studio Artist 4 includes a link to Craig's custom help pages for his CD Hand Drawn Media presets, as well as information on how to build your own custom help pages that can reference specific preset files and load them automatically for you.
This tip on preset browsing and organization includes a section on building custom html help pages.