The Preset Favorites Toolbar provides a way to custom organize different Studio Artist presets. You can build custom Favorites categories to provide quick access to presets you frequently use in your work. The Favorites toolbar is also useful when manually painting, since it takes up much less screen real estate than the full Preset Browser palette.



Favorites categories also provide a way to mix and match different preset types in a single category. So you could do something like make a category for watercolor effects that included watercolor paint presets as well as image processing presets that simulate wet canvas effects.
The Preset Favorites toolbar is docked at the top of the main workspace in Studio Artist's default workspace. But like all Studio Artist palettes and toolbars, you are free to move and reposition them at any docking location in the workspace (top – bottom – left – right). Toolbars will automatically adjust to be horizontal or vertical depending on where you dock them in the interface.
The Favorites toolbar consists of a heart shaped icon pulldown menu that lets you choose your custom Favorites categories (1st gallery image below). After you choose a specific Favorites category, the individual preset icons associated with that category are displayed in the Favorites toolbar.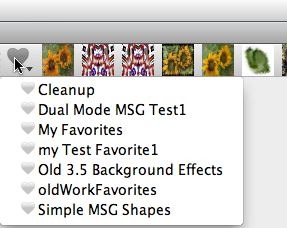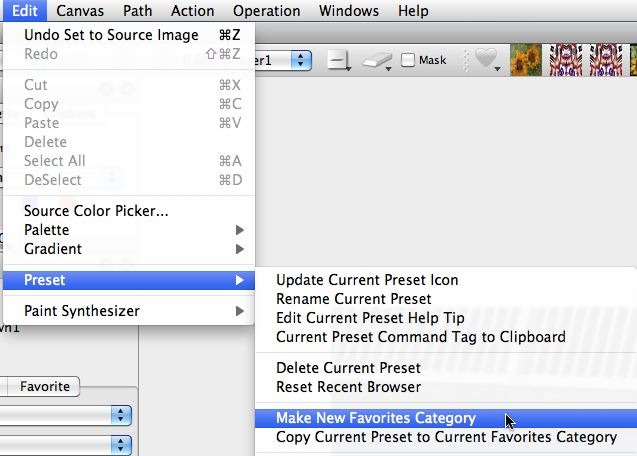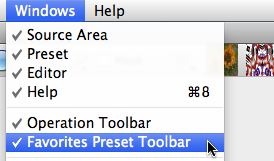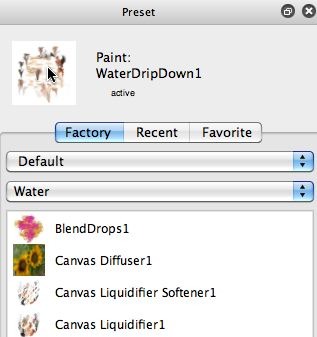 A preset favorites category can include different Studio Artist operation mode preset types within a single category. This is different that the factory preset collection, which organizes presets by specific operation mode type. So a factory paint preset collection-category can only include paint presets in it. But a preset favorites category could include paint, image processing, msg, texture synthesizer, vectorizer, dualmode paint, or PASeq preset in a specific category.
If you hold the mouse cursor above a preset icon in the Favorites toolbar, a tool tip appears that tells you the kind of preset the icon represents as well as it's name (2nd gallery image above).
To make a new custom favorites category, you can use the Edit : Preset : Make New Favorites Category menu command (3rd gallery image above). You can also manually make a new folder in the Preset /Favorites folder inside of your main Studio Artist folder to make a new Favorites category.
The Favorites toolbar can be turned on or off in the main workspace by using the Windows : Favorites Preset Toolbar menu command (4th gallery image above).
To add the current preset browser preset to the current favorites category, you can run the Edit : Preset : Copy Current Preset to CurrentFavorites Category menu command. You can also drag and drop the Preset Browser's current preset icon directly onto the Favorites toolbar to add the current preset to the favorites category (5th, 6th, 7th gallery images above).
For more information on working with custom preset Favorites categories, check out this tip.
For more information on how presets are organized in Studio Artist, check out this tip.