5.0 Processing Movies using a Folder of Sequential Images
One important reason to output processed movies using a folder of sequential images is to avoid any compression.  Another reason, is If you are still using Studio Artist 5.0 and Mac OSX Catalina or later you will need to use this to process videos since Quicktime API is no longer supported starting with Catalina.
For 5.5 Users: See this post on how process a number folder of images for 5.5
For 5.0 Users:
Converting your Movies to a Folder of Sequential Images
First you will need to convert your movies to a folder of sequencial images you can use the following programs (or look online for other free alternatives)
• Final Cut Pro X
* Photoshop
In Photoshop:
Open your Movie File > Open
Select the frames you want to export at the bottom of the page in the timeline.  Click the movie in the timeline if you want the whole clip or move the selectors if you only want part of the clipFile > Export > Render Video
Choose Photoshop Image Sequence instead of Media Encoder, where, what size, and format of image, plus frame Rate.
Recommended: Use .png so there is no added compression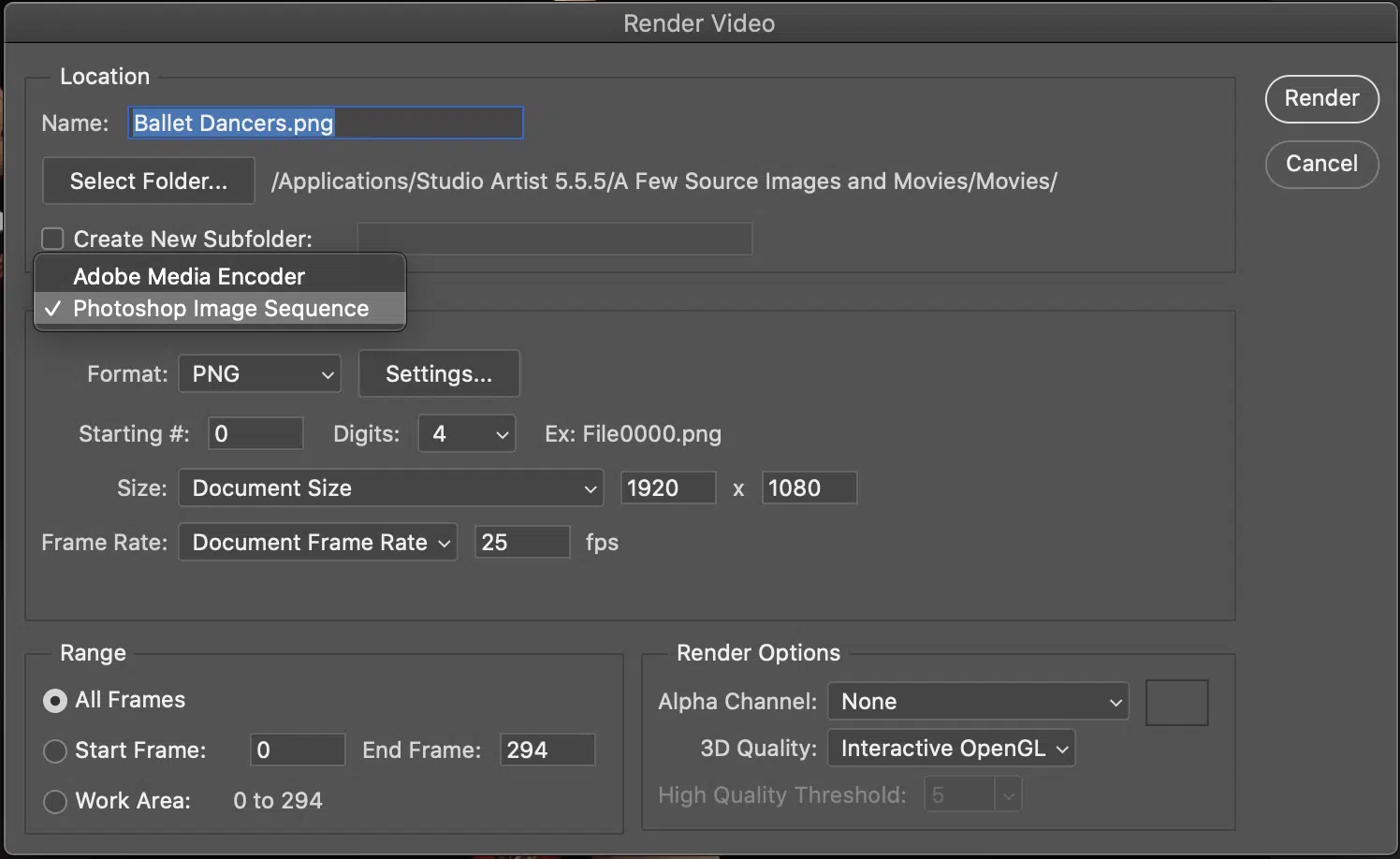 Using FCPX

• Import your original source movie into FCPX
• Click the imported clip
• File menu> Share> Export Image Sequence. (if Export Image Sequence" is not listed amongst the destinations, select "Add Destination…" Double click the "Image Sequence" icon in the right half of interface to add it as a destination. You can select the type of image you want created by tapping on the new destination and adjusting the settings.
• Follow the prompts to select the destination for your image files
FCPX will then output to the destination each frame as a sequentially numbered tiff or jpg or whatever setting you chose.
Here's a video explainer


IN STUDIO ARTIST

• Load the the Paint Action Sequence you want to apply to your source movie (in this case your new numbered source images that you created).
• Action Menu> Process w Paint Action Sequence> Image to Image… You'll be asked to navigate to the folder that contains your numbered source images. 
• Then navigate to where you want to store you processed folder of image, create a new folder and click Open (note there is no message that indicates that you need to create a new folder to save your processed video, just know the the window that comes up after you point to your source folder of images will be asking for new folder name and a destination)
• Studio Artist will then proceed to process and output numbered image files into the output folder you selected
Once Studio Artist has completed the process, you have a numbered set of processed image files in a the new folder that you created.  You can then import your processed folder of sequencial images into your video editor of choice.