In the last 2 posts we've been discussing how to generate a vast array of different artistic slit scan effects in Studio Artist by processing a source movie file with temporal image operation effects. However, you can also generate live video processing slit scan effects in real time using your Mac's built in iSight camera (or any Quicktime supported external video input source like a web cam). The image above shows off a simple example of live video slit scan processing.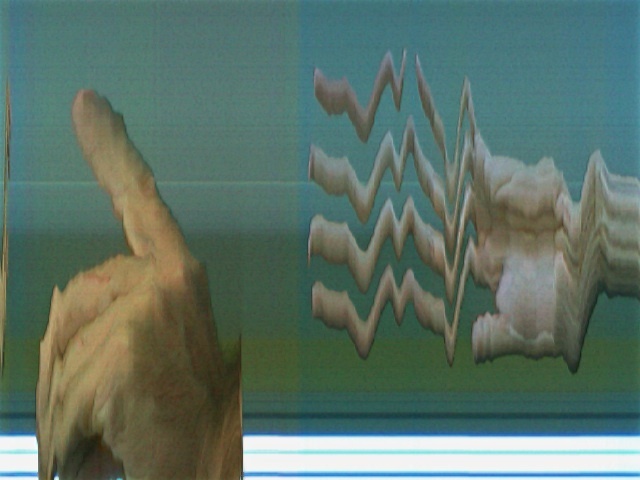 The trick to working with live video processing slit scan effects in Studio Artist is to use the 3CSlitScan MSG processor. The screen shot of the MSG Advanced Editor below shows a simple 1 processor MSG preset build using the 3CSlitScan MSG processor.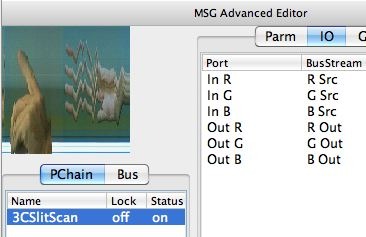 The IO (input-output) routing for this MSG preset is as simple as it gets, and is shown above.  The RGB source streams are used as input to the 3CSlitScan MSG processor, and the output is routed to the RGB Output image streams.
3C stands for 3 channel, so the 3C MSG processors process color images. 1C stands for 1 channel, so those processors would be single channel black and white image processing effects). For more information on building and editing MSG presets check out this tip.
You also want the IP Source setting in the generic Editor palette to be set to the Source Image for this particular effect, as shown below. This insures that the live video source will be used as input to the MSG preset.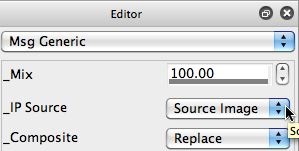 And to use live video input in Studio Artist, you need to turn on the File : Source Settings : Live Video Loop Action Advance menu flag.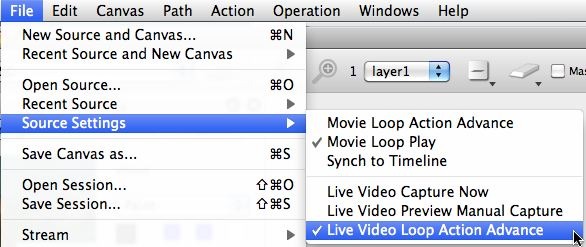 You then run the MSG preset in loop action mode. You can start loop action by either using the Action : Run Loop Action menu command, or shift click the Action button (the megaphone icon button) in the main operation toolbar. Loop action mode runs the current preset in a continuous loop until you press the spacebar to stop loop playback. So you want to make sure you are in MSG operation mode when you run loop action with the MSG preset shown above as your current MSG preset.
The 3CSlitScan MSG processor currently has 1 editable parameter, which is called Shift Option. It adjusts the direction of the slit scan.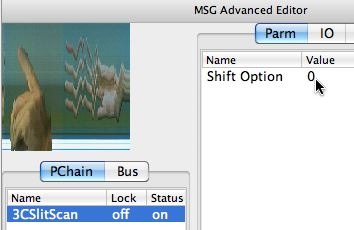 You can currently adjust the Shift Option Value to the following 4 settings to adjust the direction of the slit scan.
0 = left to right
1 = right to left
2 = top to bottom
3 = bottom to top
This 3CSlitScan MSG processor runs a traditional 1 pixel wide slit effect.  We should probably add a different MSG processor that implements the Scan Tracker effects, so look for that in some future update.
Warning:
Also, be aware that there is a bug in the 4.02 version of this particular MSG processor where it only works in Default MSG Quality mode. It does not work properly in version 4.02 when using HIgh Bit Depth MSG Quality mode.  This is fixed in upcoming version 4.03, but it's something to be aware of if you are running version 4.02. You can adjust the MSG Quality setting in the main Preference dialog in the MSG tab area as shown below.