The following image gallery below off a few random Smart Blur effects generated by using Studio Artist's new Gallery Show features to randomly mutate new image operation effects in real time. This particular Gallery Show feature is very useful for previewing the range of potential different artistic styles that any given image operation effects can produce. You can also use it to automatically generate new effect presets via random evolution of effect parameter values.
The first gallery image below shows the Gallery Show preferences I used for this particular post example.
The Random Cur IP Op option for the Technique preference setting.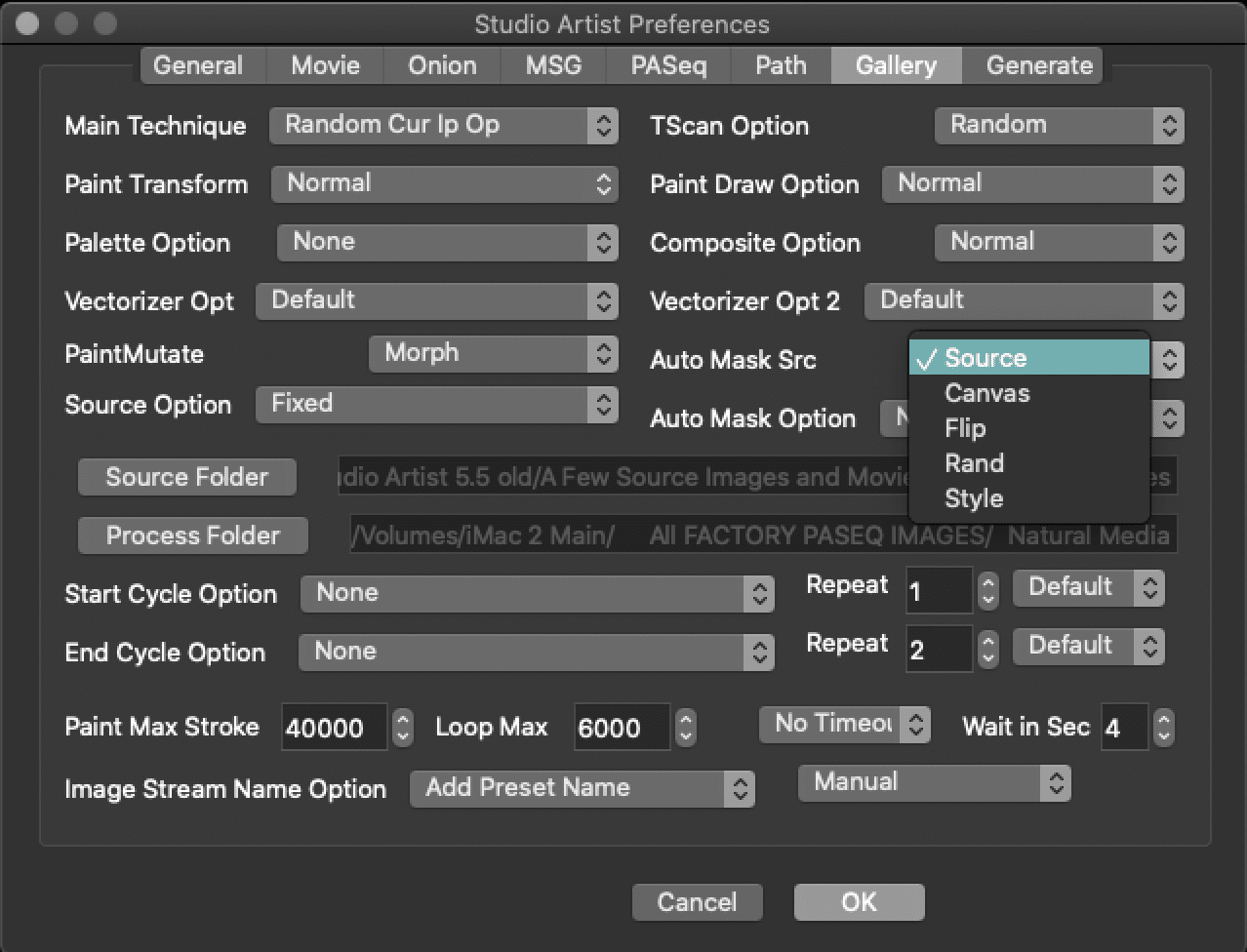 The Random Cur IP Op option. What this technique setting does is randomly mutate the different adjustable user controls for the current image operations effect.  If you use this technique and then run gallery show, Studio Artist will cycle through different randomly mutated image operation effect parameters for the current ip op effect you have selected.  This is a great way to see what a particular Image Operations Preset can do.  You can click on a Image Operations presets and then run GS using the Random Cur Im Op technique.
The Wait in Sec towards the bottom of the preference window specifies the number of seconds gallery show waits between effect cycles which gives you time to stop Gallery Show and Save.  Another way though to run GS is to choose GS Cycle 1 which will run just one cycle.
The Source Option specifies what gallery show does with the source image for each cycle.  The examples above particular used the same source image that was currently loaded into the source are, so I set the Source Option to the Fixed setting.
The Source Option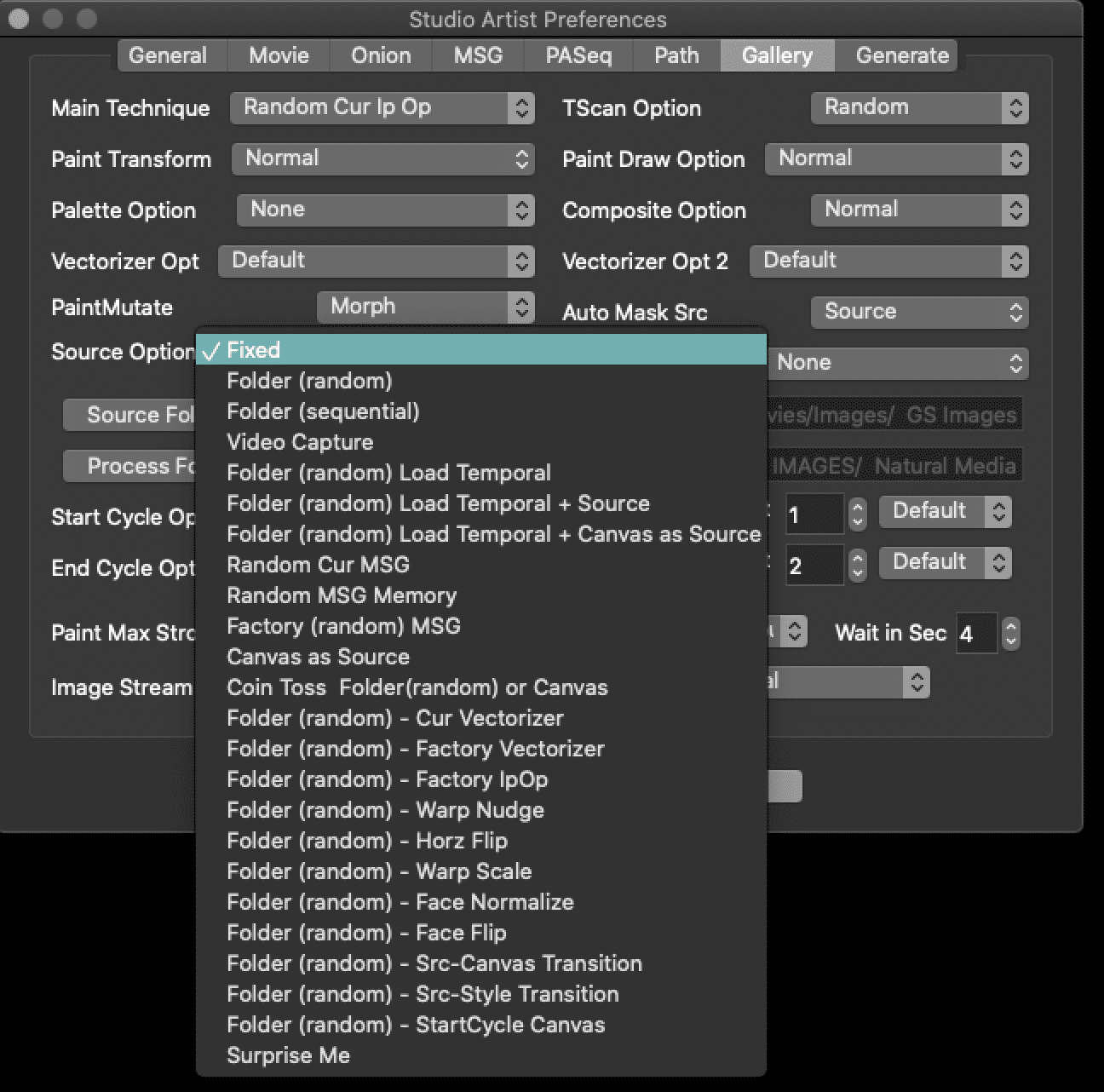 As you see there are a lot of options for the Source.  If you choose fixed then it will only use the current source image.  You can choose a folder which you need to point to in the Source Folder below Source Option and you can set it to Random or Sequential.  This means that each gallery show cycle will be run with a different source image from your selected folder.   The whole point of gallery show is that you can customize it by setting it up to work with your unique set of source imagery and pre-selected presets or technique settings.
Gallery Show is very flexible. You can use the Auto Mask Option control to specify different kinds of automatic masking operations for each gallery show cycle. And you can use the Start Cycle Option control to specify different kinds of operations that take place at the beginning of each gallery show cycle.
For example, you could choose to randomly run a different randomly chosen favorites preset at the beginning of each gallery show cycle. This is useful for simulating drip effects, where your current favorites presets are a collection of different water drip or melt presets. Since the whole point of this particular post example is to use gallery show to preview different artistic effects for a specific image operation effect, we turned off all of the gallery show controls that provide additional effect variability or masking.
You can easily get to Gallery Show by using the Galley Show Toobar (Windows > Check Gallery Show Toolbar). GS Edit brings up the editor above.  GS Run, runs GS continously, GS1 Cycle run GS one cycle – GS Skip skips current cycle – GS Zap – Procedural Mutates or modifies the next process cycle in real-time – GS Grab – Grab the current canvas and safes as an image – First Time you use Grab it will ask where you want to save and then all other Grabs will automatically to to that folder.  Every time you restart SA you will be asked again where to save your Grabs.

For More Information
You can use Studio Artist's movie or image stream features to automatically save each canvas image generated during a gallery show run. So you could let gallery show run unattended, and then cull through it's automatically generated output later, looking for keeper images while throwing away the rest. For more information on working with Streams check out this tip.
You can also use Studio Artist's History Sequence recording features to save all of the automatically mutated ip op presets generated during a gallery show run. The Image Stream name Option control in the gallery show preferences can be used to associate preset names with image stream file naming.