The following image was automatically generated using Studio Artist 4's new Gallery Show feature. Gallery Show was originally conceived as a way for artist's to build self-running dynamic art shows using Studio Artist that could be presented in art gallery settings. But we quickly realized that Gallery Show could be used to do much more. It's a great way to automatically generate new abstract art and visual effects that are completely automatically generated. The example above was generated by gallery show randomly mutating the Studio Artist Vectorizer as the automatic gallery show progressed, and is just one example of a complete series of effected images created over the course of the entire gallery show run.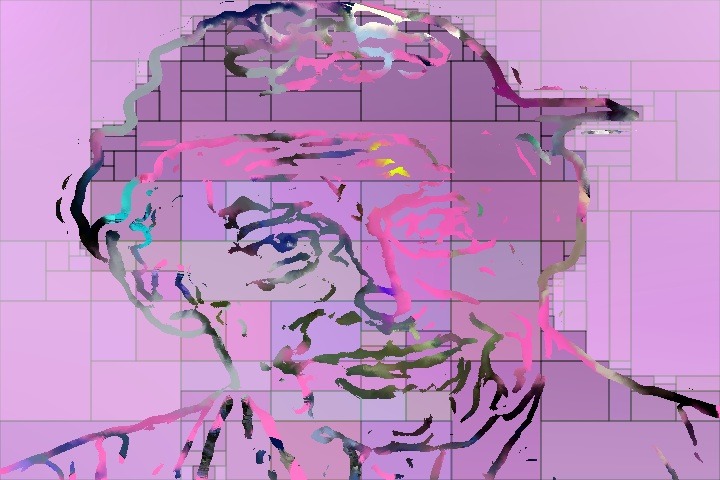 Gallery Show has a number of editable preference options that determine how an automatic gallery show run will progress.
There are a large number of different gallery show Techniques. The Random Vectorizer technique used for this post example randomly mutates all of the Vectorizer parameter settings prior to running a given gallery show cycle. Gallery Show works when activated by automatically generating new output images in a series of processing cycles.
The technique determines how the gallery show cycle effected output image is created. Some techniques work with parts of the existing factory preset collection, and the Technique Scan Option settings determine how the associated factory presets are accessed as the gallery show cycles progress.
If the technique references the paint synthesizer, then the Paint Draw Option lets you fine tune how the pant synthesizer will work. Many of it's settings allow you to incorporate automatic bezier path generation into the gallery show cycle. Gallery Show can automatically generate and then paint in bezier paths to define a painting.
The Auto Mask Option allows for various kinds of dynamic automatic selection masks to be generated for each gallery show cycle based on the current source image. Incorporating automatic masking into your gallery show cycle can lead to the buildup of more elaborate visual effects over several gallery show cycles, since a current gallery show effect will only partially replace the previous gallery show output.  So the current canvas image was always built up over several gallery show processing cycles.
I usually setup the Source Option to cycle randomly through a folder of custom source images. This means that each gallery show cycle will be run with a different source image randomly selected from my custom source image folder.  I often use a collection of random news images for my work. The whole point of gallery show is that you can customize it by setting it up to work with your unique set of source imagery and pre-selected presets or technique settings.
Gallery Show also offers a second processing step to be applied to each gallery show cycle. You can do this by setting the Start Cycle Option. I often use the Cur Favorites setting, which allows me to use a custom favorites category.
Favorites provide a way to custom organize different presets in Studio Artist. You can build custom favorites folders.  Different preset types can be mixed together in a favorites folder, so you can put image processing, PASeq, and paint presets all in a single favorites folder.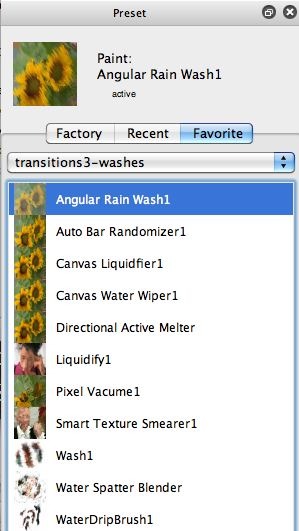 The screen shot above shows a custom favorites folder I put together that incorporates a series of water wash effects.
The start cycle option is applied to the canvas at the beginning of each gallery show cycle. So, when using a favorites folder for the start cycle processing I can randomly apply one of the preset effects in the current favorites folder to the existing canvas prior to the main technique execution for the cycle. I often use something like my custom water wash favorites presets as a start cycle option for my gallery show runs.
So, the custom gallery show approach I built above works as follows. For each gallery show cycle, the following steps take place.  A random source image is selected from my custom source image folder. A random water wash preset is selected from the current favorites folder, and then applied to the existing canvas for the start cycle processing.  A random selection mask based on intelligently processing the source image is then generated. The main gallery show technique is then run, which is randomizing the vectorizer settings and then processing the source image with the random vectorizer preset. The random vectorizer technqiue is automasked whn it is run, so only the selected part of the canvas is fileld with the vectorizer effect.
A gallery show run is started by running the Action : Run Gallery Show menu command. Gallery show cycles will continue to run until the spacebar key is pressed to stop gallery show. When you first start a gallery show run there may be a pause for a few seconds before it starts running. The Wait in Sec gallery show preference determines how long gallery show pauses at the end of each gallery show cycle.
You can use the Movie Stream feature to stream gallery show image output to an open movie or image stream.  There's a stream write flag that supports output at the end of each gallery show cycle.

I hope it's obvious from the above discussion that Gallery Show is an extremely versatile feature. By working with folders of your own preset effects you can design customized dynamic art shows. Or you can use the random techniques to help visualize the different effects possible for a given operation mode like the vectorizer or the image processing effects or even a specific image processing effect.
History sequence recording can be used to record the processing history of a gallery show cycle.  And streams can be used to autosave the individual results of an automatic gallery show run to your hard disk as image or movie files for later review.