For the last 2 days we've explored generating paint animation based on a paint synthesizer preset that incorporates an embedded MSG preset that directs the paint synthesizer to auto-paint a dynamically evolving chaotic attractor. The embedded MSG preset uses temporal generators to procedurally modulate editable parameters associated with the generation of the chaotic attractor shape over time in the animation.
Today we'll revisit generating paint animation from this embedded MSG paint preset with a totally different approach, by incorpoating it into a DualMode Paint preset running live in loop action mode streaming into an open movie stream.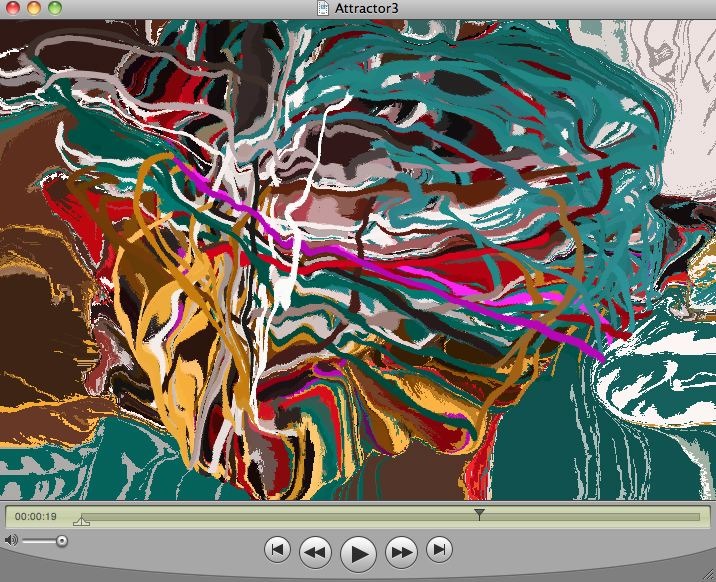 DualMode Paint is an operation mode in Studio Artist. It allows you to build paint effects that incorporate live image processing directly into the auto-paint process. You can work with live image processing, texture synthesizer, MSG, or interactive warp processing that is interleaved into the paint synthesizer's auto-paint process.
So you can think of DualMode Paint operation mode as a way to combine together 2 different kinds of presets into one interactive or automatic dynamic paint effect, that incorporates live painting and live image processing into one effect.
For today's post we'll use the same embedded MSG paint preset we've been working with for the last 3 days, with a few slight modifications. For today's effect, I wanted the paint strokes painting in the chaotic attractor to be wider and at full 100% blend. So I increased the Horizontal and Vertical Size parameters in the Brush Source control panel to make the brush larger. And I set the Blend% in the Paint Fill Apply control panel to 100%.
Also, since I wanted to run the temporal generator procedural animation in loop action mode and have my individual loop cycles paint in fairly quickly, I went to the Path Start control panel and set the Max Stroke parameter to a lower value of 76. So every 76 paint strokes a new loop cycle will start when running the preset in loop action mode.