The following images shows a rough color sketch effect created by combining together several different image operation effects. So the paint synthesizer is not being used at all for this particular sketch effect. This post will discuss how to create this effect in detail. We'll take a look at the Sketch Edge ip op, which is useful for creating an endless variety of different intelligent black and white sketch effects. We'll also take a look at the Colorize ip op, which can be used to colorize the canvas (which could be black and white or color) based on the source image coloring
The 6 step paint action sequence (PASeq) below was used to generate the rough color sketch effect.
I started by using the Sketch Edge image operation effect to convert the source image into a fairly tight black and white sketch. I used the On2 setting for the Finish parameter to boost the contrast of the sketch.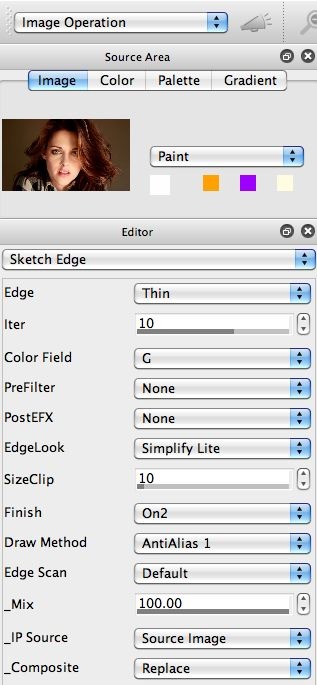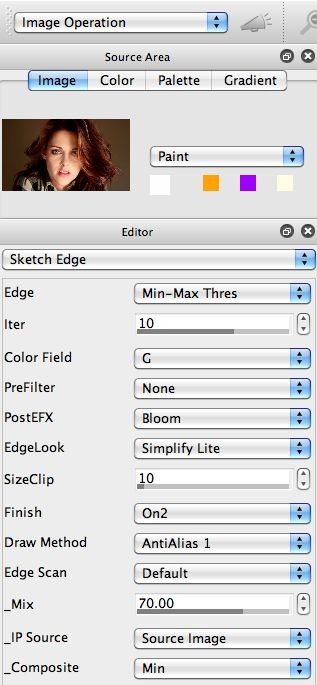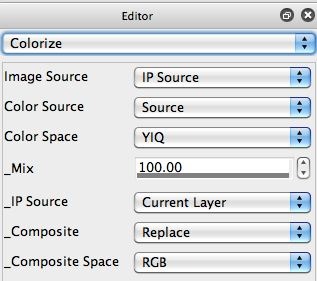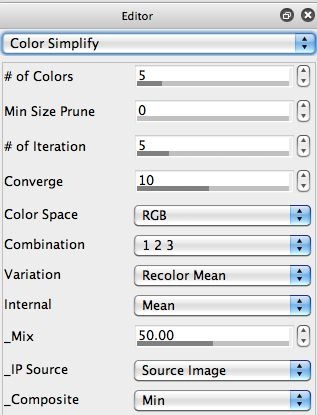 I then used the Sketch Edge ip op a second time to add some additional sketch smear effects. To do this I used the Bloom option for the PostEFX parameter. I also changed the Edge parameter to get what I considered a better looking feature smear with the Min-Max Threshold option. I used a Min setting for the Composite parameter because I wanted to overlay the dark bloom into the existing black and white sketch, and a 70% Mix parameter so the dark bloom smear didn't completely obscure the existing black sketch lines in areas the dark bloom smear covered.
if we were interested in a black and white sketch effect we might be finished at this point.  But I wanted to create a color sketch effect. So I used the Colorize ip op to add source coloring to my black and white sketch canvas. The Colorize ip op can create a wide range of different effects. To source colorize the existing canvas you want to set the Image Source parameter to the IP Source setting, the Color Source parameter to Source setting, and use the Current Layer for the IP Source.
Depending on which color space you use, the effect of the source colorization will appear differently.  It's best to experiment and choose the aesthetic look you like the best.
At this point I wanted to fill in the white interior areas of the color sketch canvas. To do this I used the Color Simplify ip op with Min compositing and a 50% Mix setting.
The last 2 action steps using the Image Compressor and the Blur ip op with an Edge1 composite setting are finishing touches that slightly boost the final image contrast. So they aren't essential to generating the overall look of the color sketch effect, but are typical of the kinds of finishing steps I add to PASeq effects to subtlly improve the output image quality by maximizing image contrast and sharpening feature edges.