Studio Artist has some cool new MSG processors that generate space-filling curve based effects. One fun thing you can do is to generate a halftone screen based on the space-filling curve. We'll take a look at how to build this effect in today's post.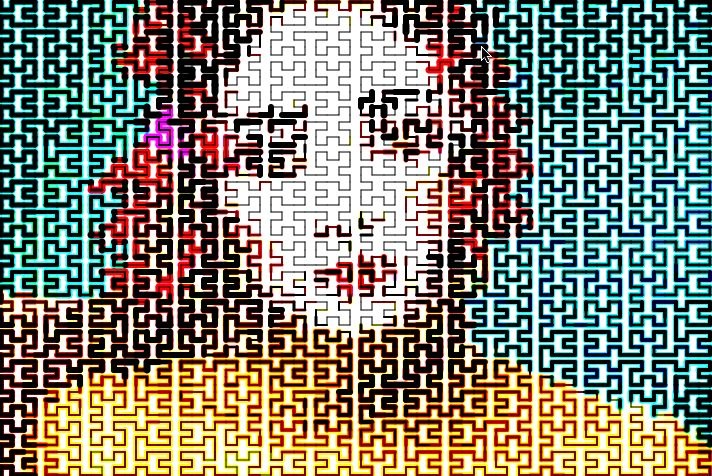 Halftoning is the process that takes place to convert a continuous tone image into a bi-level image for printing. Most printers only lay down solid black ink dots on white paper (if it's a black and white printer), or they lay down cyan, magenta, yellow, and black dots if it's a color printer. So a continuous tone image needs to be converted into solid color dots (or pixels) in order to be printed on these devices. Look at the image printing in a newspaper or magazine and if you zoom in close up you will see it's made of different dot patterns that look like gray or color tone areas when your eyes get away from the page.
Exaggerated halftone patterning also makes a great special effect. So rather than trying to accurately reproduce continuous tonal values in an image for printing, the arrangement and sizing of the color dots is exaggerated and oversized for artistic effect. That's the case for the particular effect shown above. Rather then building a halftone screen out of variable sized dots or stochastic noise patterns, the screen is made out of a modulated space filling curve.
The image below shows the MSG preset (in the MSG Advanced Editor) used to build the particular effect shown at the top of the post.